Hello from Wakanda, via Metairie, Louisiana.  Finally off work and settled in and ready to briefly, talk all things Wakanda.
Last night, I saw one of the first day showing of Black Panther, and I LOVED EVERY MINUTE OF IT.
A brief list of things I loved!
1)The Dora Milaje!!!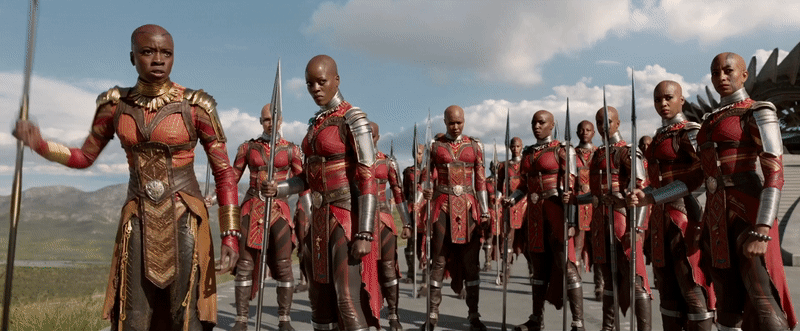 Were so fierce and strong and full force attack GODDESSES!!!  LeD by Danai Gurira as General Okoye' ALL of the Dora scenes, were fabulous and ferocious!
Daniel Kaluuya…mahn…I was mad at him…I swear I wanted Okoye to stab his azz!!
***SPOILER ALERT***
2) Andy Serkis.  I didn't expect Andy Serkis to be sooo funny as Klause…lol…I'll admit, I was surprised they allowed Killmonger to kill him…but it made sense…Killmonger hated Wakanda, but he had such anger at folks talking shit about it, and I just bet Klause never let it be unknown just how much he disrespected Wakanda…"savages"…white bastard.
***SPOILER ALERT****
3) Martin Freeman.  This is the best I've loved Martin Freeman since Love Actually, I mean, I love him in Sherlock, but absolutely LOVED him in Love Actually (never saw the Hobbit, LoR isn't really my thing)…I love him more in Black Panther! Glad they integrated him into the story, and hopefully he stays with Wakanda for any subsequent sequels.
4)Lupita…as Nakita…was luminous..I love every thing she wore, all the hair looks she sported, and I was soooo glad they gave her actual action sequences, cause I hated the fact that she was CGI in Star Wars…bleh, talk about a wasted opportunity.
5) Chadwick was SOOOO good…he had that regal air down…and that swagger…he was perfectly right for the role of T'Challa.  I can't wait to see more of how T'Challa grows as King and more awesome action sequences.  And that swagger!!!!
🔥 🔥 🔥 Now the two BIGGEST stand outs for me:
LETICIA WRIGHT as Princess Shuri!! OMG how awesome was Shuri. She stole every scene she was in…"don't scare me like that COLONIZER"…lol My cousin and I said, that's our new word for wypipo from now on…lol. Oh and "what are THOSE…" lol.  From her first scene to her last (and that end credit extra scene) Princess Shuri was AWESOME!
MICHEAL B. JORDAN as Eric Killmonger!!!! OH MY GOD! On the one hand, Killmonger was horrible, but damned if he didn't have ALOT of points. He commanded EVERY scene he was in. And damn if he didn't pack on more muscle for this role!!! That last line though about bury me in the ocean…woohsah…that was a good line.
There was at least 2 gasp worthy moments for sure…the end of the fight with Killmonger…I gasp 2x!!!
My final review grade: A++ for great action, great acting, and even better an actual great storyline and plot turn, that made it way different from the usual comic book fare!
So…there you have it, my brief review of Black Panther. It's brief because I know there are still many folks who have not seen the film yet, so I wanted to hold off on extensive spoilers…
Alright…if you saw Black Panther already, tell me how you liked it and what you liked about it…and if you haven't seen it yet…tell me you are planning to see it.
Either way…I'm soo happy to finally be able to say "Welcome to Wakanda"!!!